My Name is Barrie Wildon and I am a Driving Instructor based here in Northallerton. I have been an ADI since 2005. I operate under Traffic Lights Driving School. I am an Independent Driving Instructor. I am an Driver and Vehicle Standards Agency (DVSA) Approved Driving Instructor.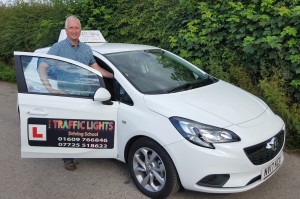 I providing quality tuition for you taking up driving in the Northallerton area. Learning to drive is a lifelong skill and possibly a Life Changing Skill, that you should be proud of forever! and the cost of training will be repaid many times over. I offer lessons to suit all types of learners, and I am a friendly, experienced and passionate about helping you to succeed.
From absolute beginners to those who just need a bit of a refresher,
We use the Latest coaching methods (Client based learning) to allow students to learn at a pace that's correct for their development, (learn quicker if you know where you are going wrong

.)

We will undertake your driving tuition with the respect and professionalism that all learners deserve. I understand how daunting learning to drive can be, so I am here to help your through every stage.

We learn you at your own pace (Not at anyone else's pace, you are an individual)

We will make you feel relaxed and make the driving experience enjoyable too.
Reflective log ( We track your progress and build up a picture of your driving skills)
We are a very patient, thorough, friendly, professional instructor who as the knowledge to teach his pupils at a speed that they can learn at to suit their own learning level.
We will give you 110% at all times, his aim is to teach at a pace the student is able to learn safely, never neglecting attention to detail and he has a complete understanding of Laws, Regulations and other road users.
We will also incorporates (Defensive Driving Skill) on a basic level for all of learner drivers / refresher courses, which enables them to read the road & traffic conditions & developing situations, "therefore keeping you as safe as possible at all times".
Barrie is always up to date with new ways of teaching and is committed to upskilling himself as well so that you get the best possible training.
Remember that the whole point of lessons is to learn how to drive and not just to pass a test. (It's no good just passing a test and then not knowing how to actually drive.)
Whether you're looking to learn how to drive from the very beginning, already have some experience or have already passed then I can help.
"Remember I am not just teaching you to drive to pass a test but to stay safe on the road always"
"Safe Driving For Life!"